Latest LED screens rental & sale indoor & outdoor modern types, models and designs newest features distinctive brightness, high quality, ultra-clear image
Latest LED screens
Developing LED display screens is becoming more remarkable in line with
technological development, communication technology and digital technology.
Also the need for innovative, creative ways and means to offer services and deliver
advertising messages everywhere to the largest crowd
to attract new customers and increase the confidence of our customers, and to help spread brands and exclusive products.
Led displays have the ability to draw the attention of clients and viewers to
the services provided by the owners of companies, malls and shops, etc .
Manufacturers have worked on evolving the electronic advertising screens and
they have equipped them with the best characteristics, specifications and advantages.
As well as the creation of their own exclusive specifications , new forms and methods of use and installation.
The latest LED screens modern & smart Specifications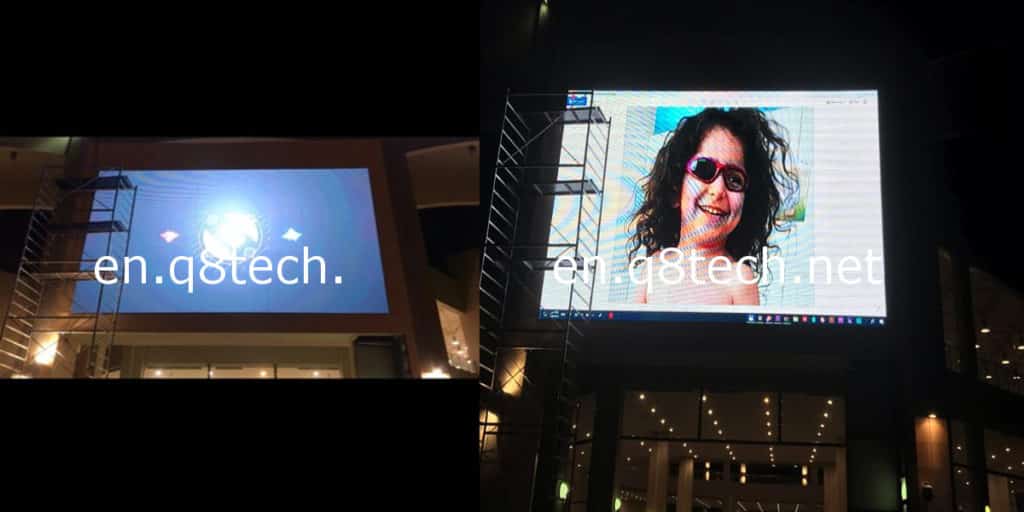 First, in terms of lighting and distribution
SMD LED screens are the latest in light distribution and light dispersion from LID lenses.
As the light comes out of a single bulb instead of the previous types where the light out of 3 bulbs.
Here we mean better distribution, excellent brightness, clearly show advertising content and higher accuracy.
secondly In terms of product quality, strength and degree of protection
Modern LED tiles are designed so that lenses are much more protected than their predecessors
where an outer casing is placed over the lenses and the tile is designed to be protruding around the
lenses to be more protected from shocks and scratches when they fall or touch a solid or sharp body.
Thirdly in terms of cab and solid components
A led tile has become more durable, but the most important is the ease of maintenance.
It is not necessary to disassemble the whole screen, especially if it is
of a large size where the maintenance is side or forward.
All parts of the electronic board are assembled or manufactured according to the highest standards;
of the finest materials to withstand the various environmental conditions and shocks and fires and others.
Fourthly in terms of display accuracy or image clarity and number of colors
The accuracy has been greatly improved with the advent of the distinctive SMD technology
where the screen can be viewed from the nearest point without eye fatigue or image confusion.
In terms of installation capability
You can install animated billboards at any place and on any surface.
It can be mounted on a stand alone, binary or triple.
Also it can be installed firmly on the floors, on the streets and squares and on the roofs of buildings .
We find it also hanging from a window or on the front of a full floor or
hanging along the street or from the internal balcony of the hall.
It can also be glued to the glass wall or fastened to the wall.
Many technologies have been integrated into a special, intelligent screen with multiple features.
It was also supported and provided with the latest technologies and
the highest specifications we recognize in the next paragraph.
Latest LED screens specifications
High quality, the finest materials and accuracy of details make them suitable for installing
indoors where the vision from close range and from different angles.
outdoors with bright sunlight, rain, extreme heat and extreme cold.
The highest degree of flexibility with thinness, lack of thickness and light weight
make them easily installed on the wall or suspended.
Curved, cylindrical and circular displays
Due to High transparency, slim shape and high brightness, we
can easily stick them to a glass window or glass wall so that they show what is behind .
Android technology and Windows operating systems with Touch Screen.
Luminous displays and awesome visual effects, bright colors and animated graphics to
fill the vacuum of the place and attract the audience.
Also the addition of an atmosphere of magic, imagination and romance
in the quiet evenings and an atmosphere of noise in the concerts
Dance led Floor
LED Ceiling Displays
Enjoy the audience and keep a beautiful memory of individual or group, friends and family,
with distinctive effects and a unique moment of magic with
Selfie Magic Mirror where you can take a digital photo and print it immediately with
the possibility of sharing it directly via social media.
Our led displays key features
versatility and flexibility .
high-performance ​.
premium options for critical viewing applications to more budget-friendly solutions .
high-impact installations .
24/7 operation with the longest service-life .
unmatched design flexibility.
amazing visual performance.
designed for demanding, critical viewing environments​.
designed with a focus on affordability and flexibility.
seamless visuals.
Fully Programmable.
High refresh rate, accuracy, stability.
remote control.
low-energy consumption.
HD, Full HD, 4K image quality.
easy to assemble.
user – friendly .
high, powerful Auto Brightness Sensor.
high resistant to weather conditions.
high quality stereo speakers.
Flexible Connectivity.
bright forecast day & night.
no reflection.
no noise.
LED Screens Company Innovative solutions
Each project is unique, and we are proud to provide our customized solutions for
each customer to get what suits their project, product, and facility.
Our established LED Screens Company works with architects, designers, consultants and
the best engineering offices to blend LED screens with their environment.
Our LED video display solutions are not only related to providing a screen,
but it is also important to create unique LED video display experiments.
We can show any content you want.
You can connect a laptop and view presentations, videos, and slide shows.
Our technology Can also broadcast live video and signals from
computers or any source including CV, VGA, HDMI, DVI, SDI, HD-SDI ……. .
Our LED warranty repair center ensures quick optimal service and peace of mind.
Our team provides a solution that will bring your vision to reality.
Design, sale, rental , planning, delivery to site, installation, dismantling,
technical Support , video design , content Control , etc …