Interactive Touch Screens an amazing experience for customers through an easy-to-use multi-touch interface Android or Windows system all applications
Interactive Touch Screens Apps and uses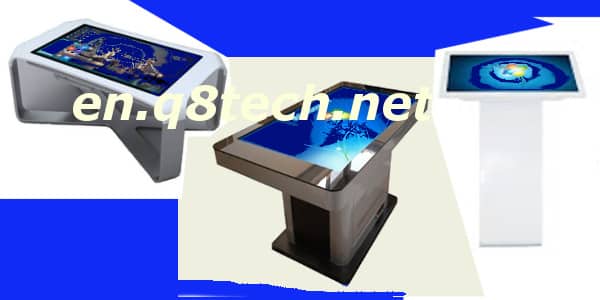 A state-of-the-art technology that achieve smooth and easy dealing with
the content stored on it, enhancing the customer experience and making him feel
comfortable and quiet as a result of getting what he wants quickly without having to wait.
Interactive Touch Screens provide a customer – dealing through a distinctive interactive user interface – with  fun.
The visual power, touch efficiency and interaction enable the client to meet his needs quickly
Touch screens are used in all applications and work environments
Shops, supermarkets, malls and markets .
Public places, institutions, government agencies and ministries.
Corporate and business environments.
Conferences, exhibitions, project and product launches, seminars, awards.
Hotels, tourist villages, resorts.
Post offices, banks, hospitals and medical centers.
Jewelry's, Beauty Salons, Car Agencies, Travel Agencies, Money Exchange Offices.
An interactive screen can be designed in the shape of a table to be an interactive table.
For example,We can use it inside restaurants, so that guests can order meals .
Also it entertains visitors as they can surf the internet until they get their orders.
A touch screen can be placed at the entrance of the school or the club to display the maps of the place.
You can use  a touch screen your in business venues to showcase products and browse your website.
Also you can provide your services to everyone through the Screen Drop feature.
You can view all your photos, effects, shows and services on a brilliant
Full HD or 4K display, so your audience sees consistent colors and impressive content.
Interactive Touch Screens Properties and features
Not affected by lighting or ambient environmental conditions.
Windows or Android operating system.
Interactive content with minimal operational burden.
Management with a comprehensive combination that blends multiple configurations
operating system, the built-in media player and touch technology.
dynamic touch content without the need for computers or other external devices.
a responsive multi-point connection.
easy to see and read Content Even in environments with variable lighting conditions.
Reliable in hot, cold and wet weather.
Brilliant visual quality without glare.
high contrast ratio and brightness.
harmonious colors and wide viewing angle.
The content management software provides accomplishing many tasks and saves time.
Easily connect to a wide range of devices.
Ability to add comments with your fingers, write with a stylus and conveniently erase written content.
You can quickly sort and configure your apps, and easily choose from predefined templates.
Start presentations with AutoRecover.
Optimize the visual elements of your presentation to allow for stunning viewability.
Ensures high-definition natural images while running programs such as Microsoft PowerPoint, Word, and Excel.
Interactive Touch Screens General Features
A thick, anti-glare toughened glass touch panel that minimizes the impact of natural lighting and ambient light.
Complementary anti-dust layer ensures that the on-screen navigation is continuously smooth.
Reliable and dust-proof design for continuous viewing of content.
Durability without interruption or maintenance.
strong resistance against dust, dirt and other environmental factors.
Central infrared receiver .
Wide variety of sizes and shapes.
Durable shock-proof collision.
Comprehensive connectivity from multiple ports, including VGA, DP, HDMI, and USB.
High-quality sound
RS232, RJ45 and CEC ports.
USB charging port
A special coating that minimizes reflections and fingerprints.
Wireless connectivity.
Interactive touchscreen solutions Android & Windows
Our established company provides a brand you can count on .
Through our experience over the past years and our distinctive works that
contributed to the success of institutions, we guarantee a perfect solution that suits you perfectly.
A team of technicians with IT administrators and professionals can completely
decide on the best option to meet your business needs.