LCD display screens indoor and outdoor displays interactive content, distinctive lighting, provide the best viewing experience high definition Touch Screen
LCD display screens indoor and outdoor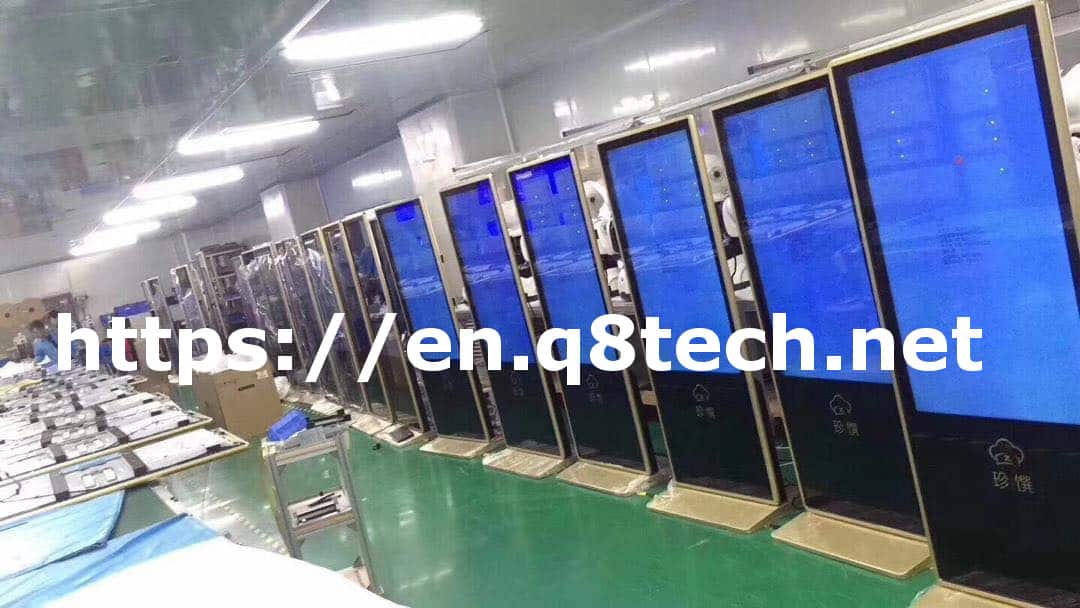 Creativity and innovation have evolved, producing a series of modern LCDs,
which are used for advertising and broadcasting interactive content through distinctive lighting.
LCD displays are used today for all applications both indoors and outdoors.
LCD screens specifications and general features
Screen sizes vary (small – medium – large).
Display Colors are bright, true and graded.
High Contrast Ratio.
Balanced Brightness without glare.
Wide viewing angle.
Fast response time.
High Resolution
horizontal and vertical frequency range is well suited
Pure and clear stereo sound.
adjusting time: you can set the operating and turning off time.
Uploading and downloading  any files in any format.
Updating playlist online .
Real-time content management.
Multimedia player CF ، SD ، MS.
Configuration options: VGA – USB
Supporting JPG MP3 MP4 WMA MPEG1 MPEG2 MPEG AVIV CD SVCD DVD
Photo View Music View Movie view File Browse Background.
Setting up music mode.
safety lock.
Multiple languages ​​including (Arabic – Chinese – English – French – Italian – Spanish – Japanese and others).
Remote control: Adjust color / brightness / contrast.
Low energy consumption.
LCD display screens main functions
Timing: switching on / off at the same time every day.
Supporting 5 groups of automatic on / off mode in one day or 7 days in one week mode.
Autoplay and non-stop playback during the predefined time frame.
Built-in card reader (CF and SD card, support CF / SD / MS / MMS / XD card and USB drive.
using CF and SD card as programming sources.
Upgrading the content of memory card (or built-in memory) by inserting a USB flash drive.
Video playback format AUTO / NTSC / PAL
Supporting function of playlists, with the ability to set different folders,
copy all files to folders, then the default system runs the files you select one by one.
operation around the clock.
An IR (Infrared) sensor can be customized
This function starts automatically when the sensor detects a video that
is about to be displayed (this function can be disabled or enabled).
LCD displays features of our own products
The company provides exclusive designs and models of the highest quality and the latest props.
High quality materials.
Fully transparent tempered glass to protect the screen against damage, shock, nail polish and sharp instruments.
Anti-theft device especially when installed in public places.
Setting up a password to protect the content, and also to lock the keyboard.
Software update support.
High quality stereo speakers.
Lightweight and easy to carry, hang or store anywhere.
Multi-touch functions including Android system.
Supporting image and video file formats
RMVB, FLV, MPEG 1, AVI, MOV, MKV, DIVX, XDIV، WMV 9, H.264,
VC-1, MP4 ,TS ، M2T ، VOB , MP3، WMA، WAV، EAAC, MP2 dec, Vorbis,
AC3, FLAC, APE, BSAC, Pictures,  BMP, PNG , GIF, JPEG
Supporting text formats: PDF, Excel, Word, TXT, PPT, and others
Application areas
supermarkets, shopping centers, chain stores, hotels, restaurants, travel agencies,
malls, markets, banks, money exchange offices, insurance companies,
pawnshops, telecommunications, post offices, hospitals, universities, schools,
classrooms, institutes, subways , Airports, stations, gas stations, libraries,
Parks, exhibition halls, museums, convention centers, ticket agencies,
squares, apartments, offices, commercial buildings, model rooms,
movie theaters,
Fitness Halls, Clubs, Massage Rooms, cafes, internet bars, beauty shops, playgrounds.