camera repair solving hardware and software malfunctions that prevent the security system from performing tasks, solution for each problem, 24 hour service
camera repair technical support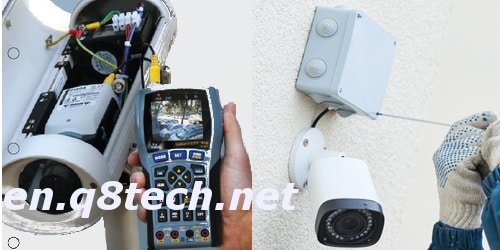 Some users have difficulty in dealing with the malfunctions of their security
systems , especially cctv cameras, so the client is puzzled by the existence of a
problem related to their security system and finds great confusion in dealing with it.
A user is a non-technical person and does not have the experience and potential to deal with these problems.
Having enacted Law No. 61 of 2015 on the installation of security surveillance
cameras in important and vital buildings and confirming on continuous
operation and storing without stopping, continuous camera repair has become imperative.
CCTV Repair Company
We provide an effective maintenance plan and logical solutions suitable
for each security system according to its condition in terms of size, devices used and connection.
An experienced technical team is working with you to develop a plan that includes
all that you need, so you can make sure that you get the most out of your security system through maintenance.
On receiving  your request , we start immediately to carry out the service .
If you are a former customer who has benefited from a security system
through our company and has obtained maintenance contracts or you are a new
customer who needs to restart or rehabilitate the security services you
will also get contracts and a guarantee for the longest period.
Also you can ensure that your system are always modern and advanced by upgrading it.
maintenance plans and effective solutions
In order to keep it running at its best, routinely maintenance to your security system is required.
Unique and varied maintenance plans, with multiple and guaranteed options to suit all systems.
you may face some problems such as broadcasting fail / poor
image clarity and colors / shaking and excessive jerk in the image /
frequent appearance of red colour.
These faults are related to electricity and should be treated by doing one of the following options
Changing the POWER SUPPLY.
making sure that the Power transformer works efficiently  ( 12 volts per 1 ampere )
and that the voltage outputs at the same value.
using the Power supply of the computer to operate the system.
Use copper filament cables because they are stronger.
Keep in mind that there is no contact between the filament of the cable and the main cable.
Checking the video cables as they may be weak and cannot withstand electricity.
Other problems that may face us are sound ( weakness – interruption – hearing whistle, ….. ).
These Problems can be treated as follows
Using UTB cables .
Keep the microphone away from the DVR at least 3 meters away.
Checking the value of the transformer 12 volts per amp.
Another problem is that recording devices may stop working or they will do RESTART automatically
This will be more related to the hard disk and its efficiency .
This matter can be dealt with by repairing faults of the hard disk or changing it.
LEDs can be repaired or changed.
Technical malfunctions need a specialized technician
There are faults that require experience and intelligence of an expert technician .
We provide our customer with all kinds of technical support in case of any surveillance system failure at any time.
Also we provide the best solution by sending one of our experts and technicians in the field of camera repair.
The problem may be related to
The camera itself, the recorder, or cables.
Wireless network.
Sound.
image.