Hikvision CCTV Cameras the leading provider of innovative surveillance solutions high quality latest technology video management software dvr nvr
Hikvision CCTV Cameras technology
Hikvision CCTV Cameras Provide high quality, accuracy and speedy performance.
their high specifications proved efficiency and success during monitoring.
Hikvision CCTV cameras have always provided the best smart and logical solutions .
Hikvision Security Cameras Features
Used for all applications ; indoor and outdoor installation .
Efficiency and durability in all kinds of weather and lighting conditions.
Advanced components, lenses and recording devices.
Variations of clarity levels which include TVL – HD – FULL HD – 4K.
Enabled night vision ( infrared ).
Color images are recorded in full color.
Can be watched online on your smartphone.
Withstand shock, high temperature, water and cold, …. .
PTZ Hikvision CCTV Cameras
Moving in all directions ( right to left 360 degrees – up to down by
90 degrees ), so you can monitor a large area.
A number of cameras can be connected to PTZ Cameras, so
When detecting an object, face, sound or movement, PTZ camera send
a signal to a connected camera to start monitoring.
 High Frame Rate Smart PTZ Camera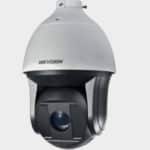 High sensor to detect and monitor any movement .
taking 1080p FULL HD images.
Very high display rate up to 60fps.
Zoom with more detail.
smart , advanced motion detection.
IR vision clearly up to a long distance and wide range.
manual control or Automatic one via presets to move the camera between certain points every specified period.
IP Hikvision CCTV Cameras
IP ( Internet Protocol ) cameras are wireless cameras.
Network Bullet Camera
Network Dome Camera
Network Fisheye Camera
Mini PT Network Camera
IR Cube Network Camera
Smart IP Box Camera
Analog Hikvision cameras
Vandal Proof IR Dome Camera
IR Bullet Camera
Vari-focal IR Bullet Camera
Ultra-Low Light Box Camera
Hikvision IP cameras are generally characterized by:
varied Features to suit all purposes.
high sensor.
NTSC image.
LUX0
Day / night vision.
 automatic adjustment to fit continuous light changes.
high Signal transmission rate.
Long-distance vision lenses and wide viewing angle.
Hikvision outdoor cameras
IP Camera Bullet Security CCTV Outdoor Network Camera
Full HD with noise reduction and high protection.
fixed lens cctv ip camera
Water and Weather Resistant.
supports IR.
no margins on either side of the screen to take clearer images.
High performance and multiple functions such as alarm and reset.
False alarm reduction by human and vehicle target classification based on deep learning.
Built-in micro SD/SDHC/SDXC slot, up to 128G.
Strobe Light & Audio Alarm
Hikvision indoor cameras
For indoor monitoring with HD image, covering an entire area after directing
it to monitor a specific field with a wide viewing angle .
DOME Camera
have the rounded "dome" shape , so it is not easy to know the viewing angle .
Here are the latest types of dome camera
4.0MP Indoor Dome IP CCTV Camera
Built-in Wi-Fi
Full HD image resolution
Excellent degree of protection against changeable weather factors.
8MP WDR IP Camera Dome CCTV Security Camera
Fixed lenses from 2.8 up to 12mm
lenses can be manually directed to cover a specific area at a clear viewing angle.
IR distance over 30 meters.
Detection of faces, luggage, dangerous objects and materials
Hikvision DVR
supports all types of analog and network surveillance cameras and can record events in HD and TVL quality.
It works with different resolutions, poor and higher resolution.
8 MP, 5 MP, 4 MP, 3 MP,12 mp, 1080p30, 1080p25, 720p60, 720p50, 720p30, 720p25
HDTVI input: 8 MP,5 MP, 4 MP, 3 MP,12 mp,  1080p30, 1080p25,
720p60, 720p50, 720p30, 720p25, ………… .
HDCVI input :4 MP, 1080p25, 1080p30, 720p25, 720p30
CVBS input: PAL/NTSC
AHD input: 5 MP, 4 MP, 1080p25, 1080p30, 720p25, 720p30
displays full image in 1080p resolution.
Deep learning-based analysis
Support H.265 Pro+/H.265 Pro/H.265 video compression
Support HDTVI/AHD/CVI/CVBS/IP video input
Real-time recording, there is no delay in receiving images from the camera.
Supports the latest types of hard disk and energy-saving.
Hikvision NVR
Third-party network cameras supported
Up to 12 Megapixels resolution recording
Video outputs at up to 4K (4096 * 2160) resolution
Up to 128/256 IP cameras can be connected with
512M / 768M incoming bandwidth
Up to 24 SATA interfaces
HDMI Output:
2-ch, resolution: 4K(4096*2160)/60Hz, 4K(3840*2160)/30Hz, 2K (2560*1440)/ 60HZ,
1920*1080P/60Hz, 1600*1200/60Hz, 1280×1024/60Hz, 1280*720/60Hz, 1024*768/60Hz
12MP/8MP/6MP/5MP/4MP/3MP/1080p/UXGA/720p/VGA/4CIF/DCIF/2CIF/CIF/QCIF
Image division and view more than one camera at a time.
ability to improve and maintain system stability with additional power supply support.
Flexible device that can be placed at any point of the network to transmit signals safely and reliably.
Supports all types of recording encryption (video recording and playback formats).